The recent phono stage shootout got me thinking about them again and I've been looking at various circuits.
This one caught my eye as seeming to be remarkably simple and elegant, it's one that Broskie posted on TubeCAD in 2015 and it looks like it's flown under the radar a bit - not sure if anyone has actually built it.
The full article is here:
https://www.tubecad.com/2015/05/blog0323.htm
and the circuit in question is some way down the article, this one titled "Differential Tube-FET MC Pre-Preamp" (except it's actually a full MC phono amp):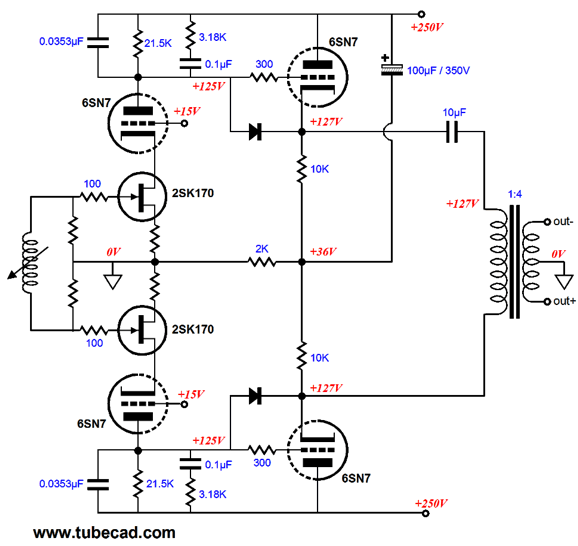 I'm trying to model the thing in SPICE to get an idea of what the gain will be, and whether it would be enough for a 0.6mV moving coil. I'm a bit stuck on the 2SK170 FET though as I'm not quite as clued up on solid state yet. My questions are:
1) The Source and Drain connections are not marked on the schematic - what would connect to the 6SN7's cathodes, the source or the drain?
2) The value of the resistors between the FETs and 0V is not specified. Would this value need to be arrived at based on the 6SN7 operating point - i.e. treat it as the 6SN7's cathode resistor and select accordingly?
3) If I understand cascoding correctly, the grids of the first 6SN7 stage are held at +15V (requiring a separate bias supply) - have I got that right?
Thanks in advance.