Been listening to my tannoy eatons (hpd295a drivers, the 10" ones).
They seem very good but im sure they can be improved.
So, as stock the box is 20.5"x 15 3/4"x 93/4".
this is the stock crossover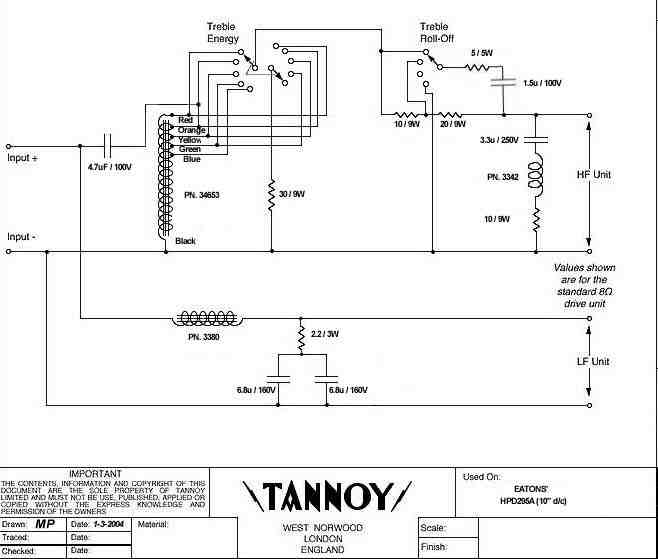 and these are the T&S parameters
Voice coil resistance, Re: 5,8 ohm
Free air resonant frequency, fs: 26 Hz
Moving mass, Mms: 34,4 gm
Electrical Q, Qes: 0,26 -
Mechanical & Acoustical Q, Qms: 2,2 -
Total Q, Qts: 0,23 -
Force factor, Bl: 11,2 N/A
Total suspension compliance, Cms: 1,1 mm/N
Equivalent volume compliance, Vas: 200 Litre
Mechanical resistance, Rms: 2,55 Mechanical ohm
Effective radiating area, Sd: 360 sq. cm
Sensitivity (2.83V@1m, 20 deg. C): 91,2 dB
Im wondering what to do though.
Should i leave them bone stock?
Just replace the connectors, binding posts and re-wire?
Worth bypassing the crossover controls? (i set them to 'level')
Maybe better crossover components or a new crossover?
I came across this crossover design, i think its for the 10's rather than the 15's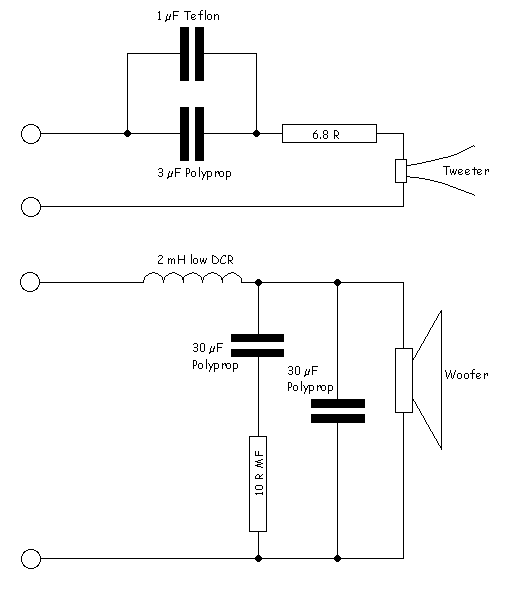 As for cabinets, ive found some info on new box sizes but is it worth it? Tannoy cant have got it that wrong can they? They will be used in a room around 12 foot square.
If i keep the stock cabinets, is it worth adding some internal panel damping?
The only other thought i have is about the baffle. Its inset by about 1/2". Modern thought is thats bad right? If i keep the stock cabinets would it be worth making a new baffle to fix over the origional, beveled around the driver/port to overcome the edge lip?
I know nothing about these and all the info i find is for 12's or 15's.
Anyone got any thoughts?
Thanks.